Rugs are not all the same! - In this section we explore construction of hand-knotted rug. We also highlight characters of the imitation rugs; hand-tufted and machine made rugs.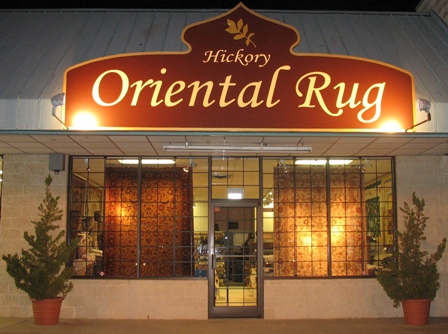 Hand-knotted - Typical characters of hand-knotted rug;

The pattern is almost as clear on the back as the front side of rug.

The depth, clarity, and density of the design is unmatched by any other rug type.

The fringe is part of the rug and not sewn on to the rug.

As shown in the diagram:

A - Warp, Foundation of the rug. Parallel threads running through the entire length of the rug which knots are tied.

B - Weft, Strength element for the rug. Threads woven across the width of the rug inserted between all the rows of knots. Weft threads pass through alternate Warp threads.

C - Knot, Main part of the rug. Strand of wool or silk is looped around two adjacent Warps, and then cut to form the surface of the rug.

D - Overcasting, Also referred to as the binding. Yarn is wrapped along the length on both sides of the rug to help keep the knots secure.

E - Fringe, The visible continuation of the Wrap threads at both ends of the rug. The length of fringe does not signify quality.

F - Kilim, The weaving web of Warp and Weft at both ends of the rugs between the pile portion and knotted Fringe.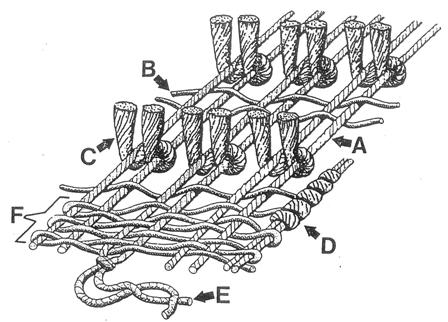 Hand-Tufted - The word "Hand" is used in describing this type of rug to give a false illusion that is handmade. The making process uses a tufting machine to insert the yarn to a grid-work backing, then glue or latex is applied to back of the rug to hold the fibers in place, then a fabric is applied on top of the glued portion for a neater appearance. The fibers used to produce this type of rug are lower grade. This type of rug does not clean as well as other types of rugs. The glue applied to the back can get dry and brittle over time. Significant shedding and burned rubber smell are also common with this type of rug. A better made machine made rug is a much better alternative to consider for about the same price as a tufted rug.

Machine made - Machine made rugs are produced by an electronically powered machine. Typically the pattern is illustrated by computer, or a punch card system to produce the design. There are large varieties of qualities in machine made rugs. Avoid the ones made of synthetic fibers, and heat set and power loomed construction. Machine made rugs made on Axminster and Wilton looms are ones to choose. Machine made rugs made of wool and manufactured in Belgium are considered to be one of the best in this category.